Long range choice.
50 BMG Long Range Cartridges
Say what you like, but nothing fired from a human shoulder can touch the big bad 50 cal cartridge. The fuel cell is so outstanding that the bench mark 30-06 cartridge was the basis for it by the developer John Browning in his search for an anti-aircraft round. The big 50 will send a 750 grain bullet down range at 2700 f.p.s., then destroy almost anything in its path that ranges from barricades to warm targets. In terms of ranging ability the massive bullet will stay awake (above the speed of sound ) and clear out to 2,500 yards before someone puts a pillow under its head. Shooting the 50 cal requires a whole lot of rifle, and in this case I have owned several, but today shoot a very straight forward Steyr H.S. 50 with cut rifling, and it is so accurate that it has held world long range titles for back to back years across the board.
Practical? No, but a great deal of fu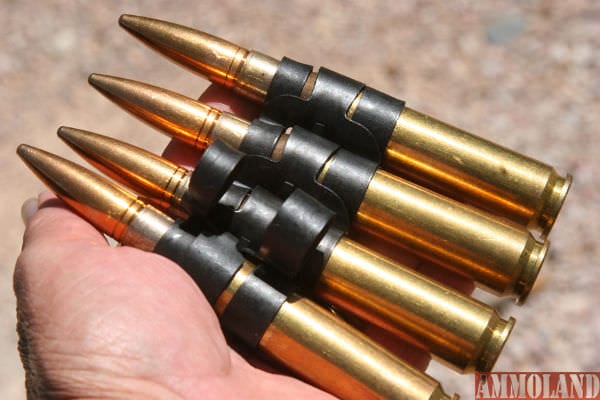 M-2 Ball 750 gr 50 BMG in links

n when shooting off the tops of bad lands mud butts at a mile away.
Price per round? Very high but through outfits like Century Arms, and Federal Cartridge ( American Eagle ) case lots are half that of much smaller long range rounds. In terms of performance. Well, nothing was feared more then an American sniper and his 50 Barrett in the sand box.
On that note I rest my case.
408 Chey-Tac Long Range Cartridges
The 408 CheyTac has a mixed history of both success and failure, but in the area of pure ballistics it is a very deadly gunning system. As a total long range wildcat round with no parent case at all, the round is unique, and the time I have spent behind a custom McMillan turn bolt shooting this cartridge can be considered memorable at the least. Some will say the 416 Barrett commands more respect then the 408, but being a bit old school, and liking the added velocity of the big "8" over the 416, it still takes top billing in my book.
The 408 Chey-Tac sends a 419 grain solid copper ultra high BC bullet down range at 2900 f.p.s., or a somewhat light weight pill being 305 grains at a blistering big bore 3450 f.p.s. That's hot in terms of a big round, and I have a close neighbor in the mountains that shoots over a mile off his back deck at a lime stone bolder on the next mountain over for kicks on any given Saturday afternoon when the wind is right.
338 Lapua Long Range Cartridges
Viewing the whole best long range cartridges subject as you care to, in most cases the real heavy weights in cartridge selection will boil down currently to the 338 Lapua. From grain weight options, price point per round, practical applications, and performance at long range, this cartridge is just about the best of the very best as a long distance shooting choice. Like the previous offerings just covered, the 338 Lapua is a military generated round that has been developed by the Fins to replace the 50 BMG, 416 Barrett, and the 408 Chey Tac as a long range snipers tool.
As 338 Lapua ammunition has built an outstanding track record among military snipers and sportsmen alike this option is here to stay.
300 Winchester Magnum or just Win-Mag
The short form here is this 300 Winchester Magnum cartridge is a massively popular go-to round due to cost per round down range, options in rifle available as chambered in the 300 Win, and its performance even at ranges well beyond 1000 yards.
Currently the US Army has gone to this cartridge when chambering their turn bolt Remington 700 action sniper rifle, ( M-24's, ) and when applying a new round to chassis rifles like the Remington 2010 sniper platform, among others.
Snipers needed to get past 1000 yards, and that meant turning to more cartridge and more bullet to do the deal.
Now the 300 Winchester Magnum can hold off mortar crews and small unit snipers to ranges beyond 1500 yards all day long in the mountain of Afghanistan. As a long range big game round or hard steel target cartridge this is a top contender, to say the least.
Hornady's 6.5 Creedmoor
Hornady's Dave Emery ballistic expert broke the mold on this one, and now after almost two full years of testing by way of four different rifles at, and beyond 1000 yards here in western South Dakota, I can say for a fact that we are seeing the next rising star in long range shooting.
Why the best of the very best?
Because the 6.5 Creedmoor will stay with and exceed a pile of cartridges, not break the household bank account, and is quickly growing in terms of cartridge brand options and bullet types. Sierra has just released the 130 grain TMK in 6.5 caliber, and Hornady offers the brand new cold tip ELD-X in a 140 grain Match bullet this summer. With the new Federal American Eagle offering in a 140 grain "hollow tip" pill, and Winchester's 140 grain Match ammunition, factory loads are everywhere. Black Hills ammunition is considering very seriously offering the new round, because I believe due to the Sierra bullet options now available to this high quality cartridge company.
In just handloaded bullets, Berger has now built a new 130 grain VLD that will drill prairie rats to 800 yards all day long. By the time this copy goes to press I would not be surprised to see still additional bullets and loads coming to volition.
I believe that the 6.5 Creedmoor could be the 21st century 30-30 in terms of general popularity down the line.
200 years of Remington.
In 1858 Beals invented and patented a spur-trigger, single-action, percussion revolver. The unique feature of this pistol was the manner of securing the cylinder pin with the loading lever. This arrangement would have far-reaching implications for Remington's large-frame revolvers.
Beals would receive at least eight more patents for revolvers and single-shot rifles in the decade that followed, and all of these patents were assigned in whole or in part to the Remingtons.
His first successful martial revolver, which came to be known as the Beals' Navy Revolver, was an excellent firearm. Beals designed a six-shot, .36-caliber, percussion revolver with 7 1/2-inch octagonal barrel and walnut grips. This developmental work occurred in mid and late 1860, with the first models ready for testing in the spring of 1861. The term Navy revolver refers to .36-caliber revolvers, while Army revolver refers to .44-caliber revolvers.
In early 1861, there was little doubt that a major conflict with the southern states was possible. President Lincoln, inaugurated on March 4th, was soon after compelled to use his powers as Commander in Chief to call up 75,000 volunteers to augment his small standing Federal army. This action resulted in a fever of enthusiastic recruiting throughout the North and compelled manufacturers such as Eliphalet Remington to take notice.
The Army Ordnance Department established an operation in New York City to procure commercial weapons for Federal troops. Major William A. Thornton, commander of Watervliet Arsenal, and Major Peter Hagner, chief of the New York Agency, tested the Beals large-frame martial revolver and wrote letters of commendation to Chief of Ordnance General James W. Ripley. Armed with this correspondence, Samuel Remington journeyed to Washington, D.C. and showed Ordnance officers a Beals Navy Revolver.
Ripley evidently liked what he saw, for he immediately ordered 5,000 Beals revolvers at $15 each; however, these were to be made in .44 Army caliber, not .36 Navy. The official letter order was dated June 13, 1861, and called for these Beals' Army Revolvers to be delivered "with the greatest possible dispatch.' Nevertheless, Remington was to deliver a combination of Beals Army and Navy revolvers on this contract.
Workmen at E. Remington & Sons completed the first large-frame Beals Navy Revolvers in June 1861, and these guns had a ready market during the first difficult months of the Civil War when firearms of any sort were scarce.11 Feverish activity gripped Eliphalet and his three sons in Ilion as they procured skilled workmen, ordered raw materials, sought new machinery, and designed tooling to make precision gun parts.
The stress must have been enormous on everyone, especially the proprietor, Eliphalet Remington II. On July 12, 1861, the founder of Remington Arms passed into gunmaking history…
Possibly the finest thing that could be said of Remington was this statement written by Albert N. Russell many years later: In stature he was tall, of muscular build and capable of great endurance. His manners were gentle and kindly, but his resolutions were firm. He was a man of sterling integrity and had the implicit confidence of his employees, who always sought his advice and counsel. I am able to pronounce no greater eulogy upon his character than by saying that during the thirty-six years I have lived in Herkimer County, I have never heard him spoken of except in terms of respect and commendation.
Control over the burgeoning company fell to Eliphalet's three sons, Philo, Samuel, and Eliphalet III. They proved that they had learned much from their father, and out of respect they retained the company name as it had been for many years. Under the brothers' management, a gunmaking establishment that had no equal was built over the next twenty years. But it was Beals large-frame revolvers that were needed by Federal officers and cavalrymen alike.
Schuyler, Hartley & Graham, military goods dealers in New York City, were among the first to procure large numbers of these martial revolvers. Other private dealers who procured these guns directly from Remington included Cooper & Pond, Palmer & Batchelders, and Tyler Davidson & Co. Concurrently, the Army Ordnance Department needed as many of these revolvers as possible to arm Federal troops in the Ohio and Mississippi River Valleys.
In all 4,586 Beals Navy revolvers were procured for the Western Theater troops by the Ordnance Department from dealers between August 1861 and May 1862. Between August 1861 and May 1862, E. Remington & Sons sold 7,250 Beals Navy revolvers directly to the War Department for $15 each, and nearly 13,000 Beals Navy revolvers were in Federal service by the summer of 1862. On August 17, 1862, E. Remington & Sons delivered the first 300 Beals Army revolvers to the Army Ordnance Department on the original contract with Ripley. Deliveries continued thereafter.
KNIFE CRIMES IN TORONTO.
Knives used in the commission of crimes over a ten year period, in Toronto Ontario. Stats from thr Toronto Police and Pulse 24.
For the period 1995 to 2005, there were 4,427 knife related incidents, of these 339 resulted in deaths. On average Toronto experiences 443 knife incidents and 36 fatalaties per year.
DID YOU KNOW?
Latin America is murder capital of the world. >>
Mexico and Paraguay top pot producers. >>
Accidental Deaths
700,000 doctors in USA, 120,000 American deaths caused by doctors.
80,000,000 gun owners in USA, 1,500 accidental gun deaths in USA.
FIREARMS RELATED FACTS!
When to verify a firearm.
When the firearm is transferred.
When the firearm is newly imported.
When the firearm is newly manufactured.
When the classification of the firearm has to change due to a modifaction of the firearm.
Before Registration
Important Changes
On May 20 2004, all transfer and registration fees were eliminated, requiring revision to all registration and transfer application forms. The following revisied forms came into effect on October 24, 2004.
681: Application to register a firearm acquired by transfer (Restricted and prohibited firearms)
682: Application to register a firearm acquired by transfer (Non restrictedfirearms) and
998: Application to register firearms (for individuals)
AS OF OCTOBER 24, 2004, ALL FIREARMS NEED TO BE VERIFIED BEFORE THEY ARE REGISTERED OR TRANSFERED TO A NEW OWNER.
There are currently 5,500 firearms verifiers across Canada and there are over 1.4 million verified firearms.
The Canadian Firearms Registry is now part of the Canadian Firearms Center(CAFC) and is no longer under the Royal Canadian Mounted Police. The Canadian Firearms Center is part of the Solicitor General of Canada portfolio.
The Chief Firearms Officers (CFOs) in all provinces except Quebec and Ontario assist in maintaining the Verifier's Network in their jurisdiction and also provide training to individuals and Business Verifiers.
Bill C-10A allows for an individual to ship restricted and prohibited handguns, using the most secured method offered by Canada Post. Providing a signature is obtained upo delivery.
Other prohibited firearms may still only be shipped by licensed carriers.Remember that the serial number and the FIN are two different things.
Pay attention all legitimate gun owners
Legitimate gun owners, the easiest targets of all, are within the sights
of police. Will confiscation of their weapons be the next step?

By Mark Bonokoski
Fri, February 17, 2006

At a time when there is a need for a major investigation focusing on the
burglaries of legitimate gun owners - some of these break-ins so
well-cased that they have all the earmarks of an organized breach of the
national gun registry - the OPP has put into motion a plan which focuses
on the easiest targets of all.

They are easy targets because the OPP already know who they are, where they live, and what weapons they have. But they are not criminals.

What they are, instead, are legitimate gun owners - those who obeyed the law and registered their weapons as demanded by gun registry
legislation, despite the suspicions of many that it represented the
first step in the slippery slope towards confiscation.

Registry link to cops

Those suspicions may not be so far-fetched.

Punch a name into a CPIC computer in any police jurisdiction in the
country and, if that person is a legitimate firearm owner, all the
information in the national firearm registry about that person is as
close as the click of a mouse.

In a directive to all OPP detachment commanders, obtained by Tory MP
Garry Breitkreuz, a major thorn in the gun registry's side, provincial
cops were recently provided with a virtual playbook on how to deal with
legitimate gun owners who have not re-registered their weapons within
the allotted time frame following their five-year licence's expiry.

The police will know who these gun owners are because, at the same time the registry is contacting them, it is copying the person's local OPP
detachment.

"Upon receipt of this notice," the directive says, "the firearms are (to
be considered) UNREGISTERED" - the capitalized emphasis coming from the OPP itself.

And this, as the playbook on procedure outlines, will mean one of two
things happening to the person who receives that notice: Either a phone
call from an OPP officer, or a knock at the door and a cop standing on
their doorstep.

It is a project which will not be without significant manpower,
especially considering that RCMP data indicates there are well over a
half-million registered gun owners in Ontario - all who will be getting
that phone call or that knock on their door if they live within an OPP
jurisdiction.

And here is how it will go down.

"As each new document arrives," says the directive, "the registered
owner can be added to a niche report as a 'newly involved' person."

Then the commanding officer is instructed on what to do next.

"Assign a member (of your force) to this document and owner," it reads.
"This member should contact the owner to let them know that the police
have this notice as well.

"During this contact, if the owner wants to surrender the firearms for
destruction, then make an appointment for the member to go to the home
and pick up the firearms. Have owner sign the quit claim. These firearms
can then be destroyed per police orders and normal destruction policy."

This is not to say, of course, that legitimate gun owners are without
options since federal law allows 30 days to either begin the
re-registration process - for a $60 fee for a long-gun licence, and an
$80 fee for handguns - or to transfer ownership of the weapons to a
"lawfully entitled person."

But, according to the OPP directive already in motion, failure to comply
within the time restraints imposed will result in serious repercussions
- with gun owners who had followed the law by registering their weapons
now in the position of being looked upon as criminals.

Enforcement action

"If the registry does not see that the (re-application) process has
begun (within the allotted time), there will be further notice to the
local police service notifying them of the possession of unregistered
firearms," reads the directive. "The onus is now placed on the local
police to take some form of enforcement action.

"Please note. AT THIS POINT CRIMINAL POSSESSION HAS BEGUN. Some
enforcement action will now have to be taken locally to obtain the
firearms."

And then the next steps are laid out.

"Knowing the person possesses the unregistered firearms without a
firearms licence, obtain a search warrant under Sec. 487 (of the
Criminal Code) to seize the firearms," the directive orders. "Remember
your contact with the owner previously? That confirmed the location and
existence of the firearms. This meets the Regina vs Hurrell requirements
for the affidavit you file as part of your warrant application.

"It is the discretion of the investigating officer whether a charge is
laid, but the firearms will have to be dealt with according to the law.

"They are illegally possessed, unregistered firearms."

Considering legally registered gun owners are now being this closely
monitored - and stalked if they fail to re-register their weapons by the
book - there is some irony in the fact that the police, regardless of
jurisdiction, are not required to register their guns and the department
of national defence is totally exempt from all registration requirements.

In 2002, 409 firearms were reported either lost or stolen from the
Canadian military, including 17 sidearms - all Browning 9 mm pistols, a
preferred street piece.

A year earlier, the RCMP itself had to confess to 16 handguns being
stolen, and two handguns being lost.

All, of course, are unregistered and therefore untraceable.


. You can call Mark Bonokoski at (416) 947-2445 or e-mail at
mark.bonokoski@tor.sunpub.com
Sixty seven Municipalities in Ontario have approved hunting on Sundays with firearms. need more information? contact me.
Increase in firearms prices. Canada's new gun control measure.
Expect to pay more for your hunting rifle come 07December1st
Your new acquisition will have the letters "CA" stamped somewhere on the firearm, likely the frame or the receiver, maybe the word CANADA.
This implementation is tied in to the 2001 United Nations resolution aimed at controlling the illegal trade of firearms worldwide.
Canada as a nation in the UN is one of the countries spearheading this measure and has signed the protocol in 2002 March.
This new marking will definitely increase the sale price of firearms. The CFC has indicated that the markings will be kept simple, so that compliance can be relatively easy and at a low cost.
Firearms manufacturers in the USA have not revealed any associated increase.
AV 05 11 11
ATTENTION FIREARMS OWNERS.
The Canadian Firearms registry is contacting owners of registered
firearms that have expired licences and have not yet renewed. They are
revoking the current Firearm Registration Certificates for those firearms.
The notices you see attached as one example are the documents that are sent to the owner with a copy to the local detachment or municipal police
service. By receipt of the notice, the firearms are now UNREGISTERED.
WHAT DO YOU DO: (A suggestion)
1] Create a NICHE report similar to the reports created for all RIDE
checks so only one report is referenced for all of these notices. As each
new document arrives, the registered owner can be added as a newly involved person.
2] Assign a member to this document and owner. This member should make contact with the owner to let them know the police have this notice as well.
3] During this contact, if the owner wants to surrender the firearms
for destruction, then make an appointment for the member to go to the home and pick up the firearms. Have the owner sign a Quit Claim. These firearms can then be destroyed as per Police Orders and normal destruction policy.
4] If the owner intends to obtain a licence, which is the ideal
situation envisioned by the Registry, then remind the owner that they have
30 days to begin that process. Note that the Registry is checking regularly
to ascertain if the owner has applied for a current licence. If they see the
application in the CFIS system, they will flag that file to await the issue
of a current licence and then will arrange for proper registration.
5] If the owner intends to transfer the firearms to a lawfully
entitled person, then the unlicenced owner also has 30 days to begin that
process. If the transfer process is noted within the CFIS system, the
Registry will complete and register the new owner to the firearms.
6] If the notified owner chooses to dispute the revocation of the FRC,
the must file a request for a Reference Hearing within 30 days. If they do
that, they are entitled to retain possession of the firearms until the
conclusion of the Reference Hearing at which point the court will decide on the validity of the revocation and the disposition of the firearms.
7] If after 45-60 days from the service of the notice, the Registry
does not see the application process has begun and there is no request for a Reference Hearing filed, there will be a further notice to the local police
service notifying them of the possession of unregistered firearms. The onus is now placed on the local police to take some form of enforcement action.
Please Note: AT THIS POINT CRIMINAL POSSESSION HAS BEGUN. Some
enforcement action will now have to be taken locally to obtain the firearms.
] Knowing the person possesses the unregistered firearms without a
firearms licence, obtain a search warrant under sec 487 to seize the
firearms. Remember your contact with the owner previously? That confirmed the location an existence of the firearms. This meets the R. v Hurrell requirements for the affidavit you file as part of the warrant application.
2] Once seized, the normal Returns to a Justice will have to be
completed. It is the discretion of the investigating office whether a charge
is laid but the firearms have to be dealt with according to the law. If the
owner now chooses to Quit claim the firearms, then destroy them as the
normal process. It is suggested that at this pointy in the process, it is
too late to now allow the owner to ask for transfer as the owner has had the time to do that and ignored the previous options. They are illegally
possessed, unregistered firearms.
Please review the sections of Part III of the Criminal Code pertaining
to firearms, and the possession requirements contained within the Firearms Act.